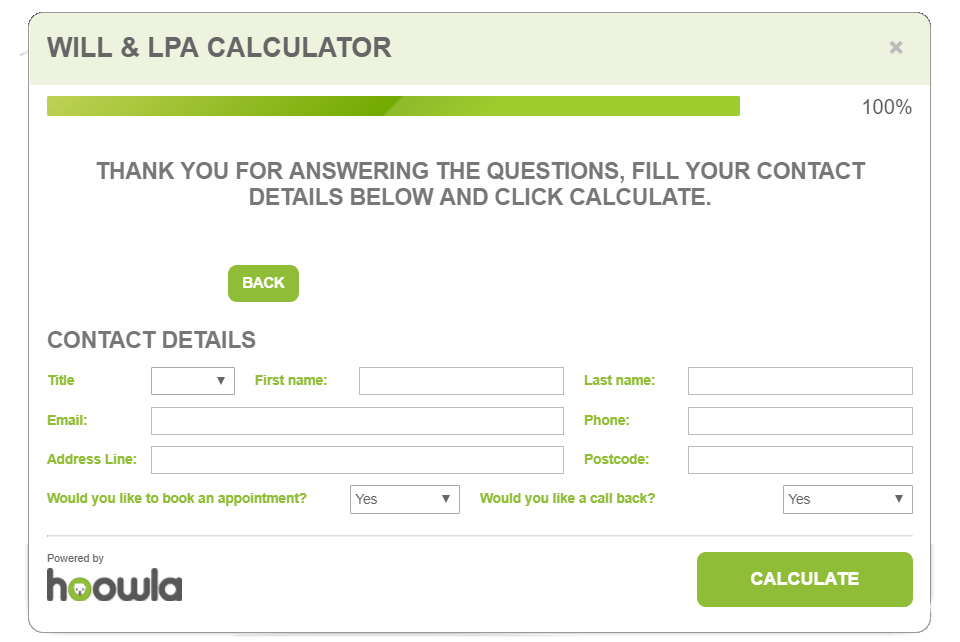 Following on from the success of our Conveyancing Quote Calculator, and with demand from customers, we are very excited to announce that we have launched a Wills and LPA Calculator.
As with the Conveyancing Calculator the Wills and LPA Calculator enables firms to streamline their internal process of generating and emailing quotes for wills and lasting power of attorney. Using Hoowla's quote calculator reduces the quoting time down to under a minute, which is great for firms and prospective clients.
The calculator can also be added to your website, allowing potential clients to request an instant quote at a time convenient to them, improving the start of the client's journey.
Professionally branded and personalised quotes can be emailed direct to clients or printed to send through the post.
The system allows the team to see when a client has viewed the quote online, easily amend details if required, and contact clients who don't accept for feedback.
All enquiries made through the quoting calculator are recorded to allow firms to identify conversation rates and adjust marketing strategies as required, meaning you can reinvest your money where it counts.
With the SRA preparing rules which will force law firms to publish prices many firms are feeling the pressure to comply.
Using Hoowla's quoting software means that firms can, at the press of a button, be ready for any new rules while at the same time benefiting from a more efficient and client friendly quoting system.
We have a live demo version of the Wills and LPA calculator on our website.  To try it out for yourself to see how quick requesting a quote can be click the button below.
If you are interested in finding out how Hoowla can improve your wills and conveyancing quoting, and to have a free demo, contact us on 01792 687146 or email hello@hoowla.com