We have updated Hoowla with a number of new features which are now live and ready to use.
This latest release has a large focus around documents, helping you work smarter and more efficiently. We have also included a new feature that helps you work even more closely with your introducers by allowing you to automatically invite them to track the progress of their clients' cases within Hoowla.
A breakdown of the features released in this update is below, or more information please do get in touch by calling 01792 687146 or via email.
Microsoft Word – Case Information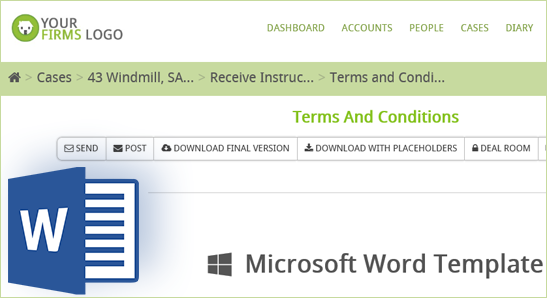 Hoowla is already fully integrated with Microsoft Word.  With this latest update you can import case information directly into Word documents to allow you to edit the information if you prefer not to use Hoowla's document editor.
Case Documents
We have enhanced the document page in your cases. This latest update makes it even easier to manage them, see which ones are currently being worked on, and which ones have been sent out.
Automatically Invite Introducers
You can now automatically invite your introducers to track their clients' cases that you instruct.
If you work closely with introducers and would like to find out how they can refer clients to you through Hoowla then please get in touch with us today and we'll show you how easy it is to setup.
Additional Document Features
We have made some changes to our documents which include the ability to quick save a document whilst you are working on it, implemented a new layout for your completion statements generated in Hoowla, included a new setting that ensures a document can only be printed and posted and there is now to option to delete documents from the case document list.