Hoowla has enhanced their case management software for the legal property market in Scotland. Hoowla's conveyancing calculator automatically calculates Land and Buildings Transaction Tax (LBTT) and Land Registration fees when generating conveyancing estimates and quotes for clients. The Scottish legal system differs to England and Wales by applying different charging structures to conveyancing transactions via the Registers of Scotland. Land and Buildings Transaction Tax (LBTT) replaced UK Stamp Duty Land Tax (SDLT) in Scotland earlier this year.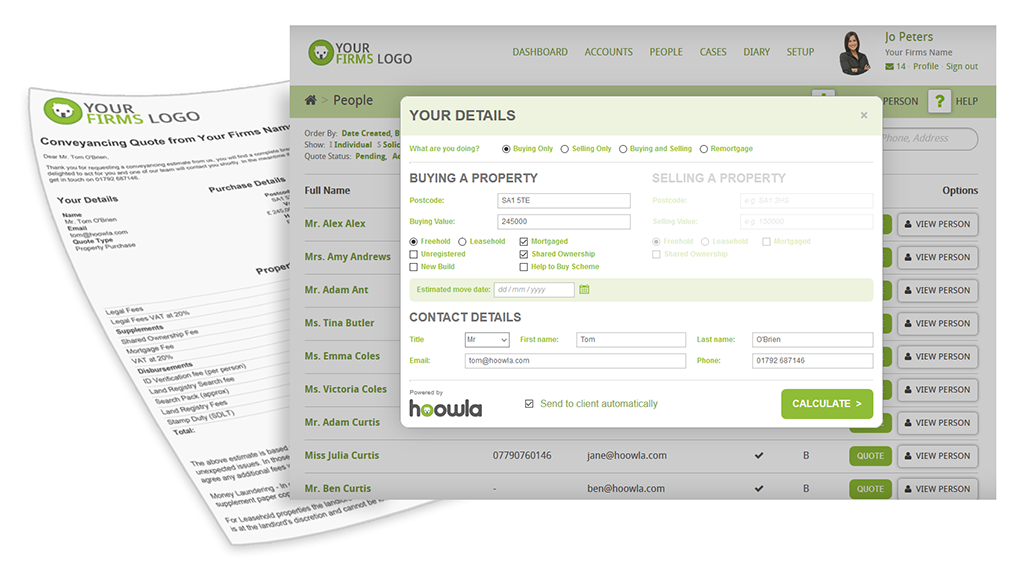 Hoowla's conveyancing calculator lets you create compliant, professional conveyancing fee estimations, all in under a minute. It fit's around your firm's charging structure and your messaging and brand sits front and centre in your quotes.
There are no setup costs and the tiny annual fee makes it a no brainer if you're looking to empower staff, save them time and increase business through your website. The calculator is free for customers using Hoowla's full Legal Software.
Hoowla provides software to the legal industry, developed in the UK using the latest technology. They help law firms of all shapes and sizes around the country to modernise their conveyancing offering, process more matters, improve communication and collaboration, reduce risk and manage compliance whilst providing a great customer experience along the way.
To find out more, arrange a quick 5 minute demo of the calculator, or simply get it setup today, call 01792 687146 or email tom@hoowla.com