Hoowla's teamed up with SearchFlow to provide an integrated conveyancing search ordering experience for solicitors using their case management software. Both Hoowla and SearchFlow are dedicated to making conveyancers lives easier and understand the need for speed and efficiency in the conveyancing process. The partnership with SearchFlow provides even more choice for conveyancing firms already using Hoowla's case management software.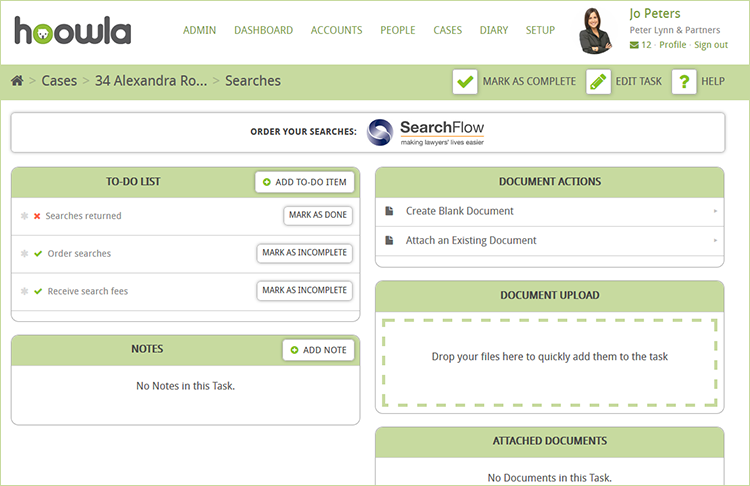 "We have a growing number of search partners tightly integrated within Hoowla now and are delighted that SearchFlow have teamed up with us". Comments Adam Curtis, CEO of Hoowla. "It's important to us that we are able to provide choice for our customers and we've focused on ensuring the ordering experience in our case management software is consistent whichever provider our customers choose".
Hoowla is recognised as the alternative to the Law Society's Veyo platform and is modernising conveyancing for law firms. Developed in the UK and using the latest cloud technology, Hoowla promotes a modern approach to legal software is a growing provider for the legal industry. Their case management software covers all areas of law and includes a customisable workflow engine, client relationship management, full accounts and invoicing, precedents and letters, practice performance reporting and more. Specialised features for conveyancers include integrated search ordering and alerts, online SDLT submissions, Land Registry integration with automated PDF form filling and key partnerships within the industry.
Hoowla provides transparent pricing on their website, operating a pay per case model with no setup charges and doesn't lock customers into lengthy contracts. Hoowla offers 24 hour support and works closely with customers, quickly integrating feature requests into the system at no extra cost.
For further details on Hoowla and to arrange a demo contact 01792 687146 or email tom@hoowla.com